Tree Removal Services in CT
If you ask 100 arborists what facet of our industry has been completely altered by the use of rapidly changing technology, it would be a unanimous vote for tree removal services.  In no area of tree care operations has such a significant change altered the way we do business and safely execute our daily operations. It is no secret that technology has both explicitly and implicitly forced a complete paradigm shift to the way, what used to be life threatening labor is now completed in a fraction of the time with ever higher confidence levels.  Cranes, brush processing equipment, bucket trucks and track lifts.  Log trucks, better tree-rigging gear and lighter saws provide opportunities for arborists to complete jobs in a fraction of the time safer and with less impact to properties than in any time in history.  
The early evolution of tree removal services had climbers using very antiquated, non-functional equipment adopted from industries such as logging and building construction that ultimately had to quickly make due especially after the return of veterans coming back from WWII.  These men were recruited to fill the ranks of a needed labor shortage to remove trees that were impacted by an ever heightened threat from invasive pests-such as Dutch Elm Disease.  The work was dangerous and often required massive amounts of underpaid labor using hand saws.  And, as seen below, even the prospect of pruning large trees took courage and tenacity.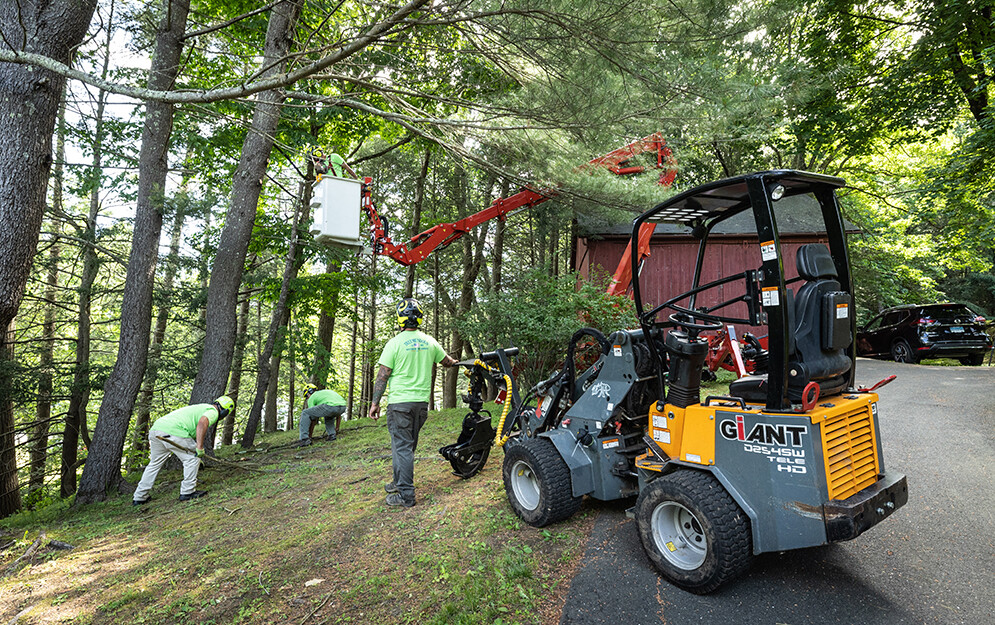 Although, on a foundational level, arborists still are required to be physically fit to endure labor-intensive processes such as wood cutting and climbing, it remains a simple fact that in order to compete in the marketplace, we have had to devise more effective, faster, and safer ways to fulfill that goal.  Safety is the number one requirement of any job site, and this ties in closely with the OSHA standards that our industry is required to abide by, called ANSI Z-133, which provide clear direction pertaining to tree care operations. That is why at Southbury Tree Service, the end goal is to have a limited impact on job sites, property, and employees while completing the work.  
Our large T800 Effer grapple crane is second to none in the industry.  What used to consume an entire day to remove a typical large tree over a house can now be accomplished in as little as a couple of hours.  The oversized grapple head secures the piece to be cut, and an inset saw blade serves to cut the piece, where it can then be placed close to a landing site so the brush and wood can effectively be processed.  On the ground, our Giant™ loader can grab the processed material and feed it directly into the chipper with zero hand labor.  This places a greater emphasis on worker safety and ensures that our employees can go home each day unharmed.  Tree work by nature is very dangerous!  Yet, with this level of sophistication, we can remove much larger sections of trees from the property at once and have far less residual damage and clean-up following the project.  This also includes less dust, smaller volumes of chainsaw shavings, and less noise.
The difference between choosing a highly-skilled, well-equipped tree service compared to a 'fly by night' outfit really comes down to how you value the property you live on OR in.  For example, it remains all too evident that damage associated with tree companies on people or structures can be traced back to only a few identities: poor equipment, poor training, or unskilled labor.  Either one of these can be the cause of damage by a tree outfit during the process of tree removal.  You can often clearly see how a culture of safety builds into this line of reasoning too.  
Lack of safety gear such as helmets, safety glasses, chainsaw chaps, or fall-arrest harnesses for aerial lifts can be a clear sign of individuals that lack the knowledge base or training to work on your property!  Demand that all contractors follow OSHA Standards and carry insurance.
Another area where technology has greatly expanded our ability to complete tough projects is with tight properties-where clearly, no large equipment can have access.  Flower gardens, walkways, steep hillsides, and small gates make our lives as arborists just a bit more challenging.  But, luckily we have a tool for every job, and that just happens to be our All Access CMC 92HD Lift.  With a width small enough to fit through a small gate, yet with a 92-foot working height, we can reach any tree we desire where the subject tree can safely be either pruned, cabled, or removed.  Honestly, until custom handheld space-age laser beams are created in the future to cut limbs off from the ground, this is the best possible solution.  
It truly does take a combined effort of experience, knowledge, the proper equipment, and training to safely remove trees from your property.  The best possible solution is simply just to trust the licensed arborists from Southbury Tree Service, Inc.
Family-owned and operated for over 40 years, Southbury Tree Service has the right tools and breadth, and depth of knowledge to provide the best solution for your trees. Call us today at (203) 264-9937 to set up a consultation with a certified arborist!
For more information about tree removal services in CT, call Southbury Tree Service at (203) 264-9937.