Licensed Arborists & Tree Care Experts in CT
An Arborist is an individual that has dedicated their lives to the protection and preservation of trees.
Over the course of the last 100 years, our profession has evolved greatly and includes all aspects of plant health care. Here in Connecticut, as Licensed Arborists, we are mandated by law to maintain an up-to-date license. The rigorous examination is a testament to the love communities have for trees and the obligation of the state to keep the integrity of our industry strong.
What separates us from landscapers? For one, here in Connecticut, there are no licensing programs dedicated to the landscape industry. In fact, due to the overwhelming numbers of landscapers in CT, it is often the case that profit comes before education.
Arborists in CT attend a significant number of post-secondary courses in Plant Pathology, Entomology, Soil Science, and Arboriculture. We are a brand unto ourselves blending education with real-world experience. Our professional lives have taught us repeatedly that our objective is not to know all the right answers, but rather where to find them. We have the strong support of the CT Agricultural Experiment Station in New Haven where cutting-edge research assists in finding answers. The CT Dept of Energy and Environmental Protection enforces the law and protects trees and people.
Our licensed Arborists pay special attention to the details of every project to ensure the complete satisfaction of each client. Our goal is to enhance the exterior of your home, raise your property value, and beautify your whole neighborhood.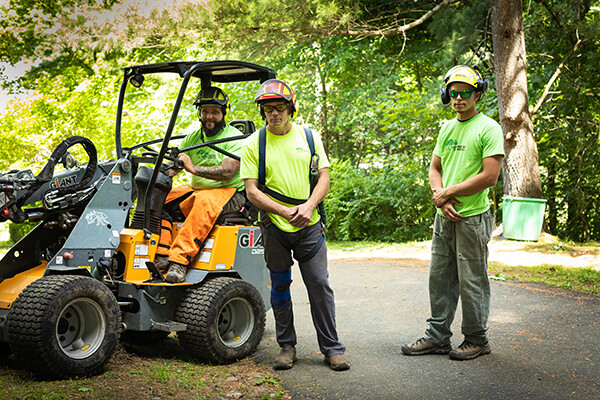 Customer Service Guaranteed
Your satisfaction is our priority, and we strive to provide a service we are proud of. Our licensed Arborists start every project by providing a thorough consultation to understand your goals and the needs of the project. We do this to guarantee that the project is completed according to your preferences.
As a property owner, most likely you and your family view the trees on your property as a valuable asset. Not only do the trees on your property help shade and cool your home in the summer, but they also help reduce heating costs in the winter months,
Your trees also provide a habitat for migratory birds, squirrels, chipmunks, raccoons, woodpeckers, and more. These are only a small list of animals and birds that call your trees home. Indeed, that is why Southbury Tree Service takes special care of mature trees. If a large tree poses little risk to property and people, our advice is always to preserve it. You, likely, feel the same way. What makes our service unique in comparison to the plethora of other 'Tree Experts"? Simply put, we do not have all the answers.
What makes a good arborist is not the ability to generate a conclusion pertaining to your tree problems on the spot. Quite the contrary. We take our time to evaluate the soil structure, physical features, and strength of the tree. It is common for us to call on other experts with strong backgrounds in particular aspects of tree care. The better arborist is patient, pragmatic, and confident. There have been far too many examples of unscrupulous contractors creating undue fear for the homeowner by suggesting a tree needs to come down even when it is of no danger and perfectly healthy. Essentially, that is the number one reason to hire only Connecticut Licensed Arborists.
If for some reason, we feel the effort taken to preserve your tree is far greater than the value in keeping it, we will determine the tree needs to be removed. But don't worry, with 50 years of experience, there has yet to be a tree we can't remove safely and efficiently. That is our job!