Tree Cabling & Bracing Services in CT
When trees have a poor branching habit, split, or cracked limb structures, areas of decay, or a poor root system, there is always a risk of structural failure. Some tree species produce a heavy crop of fruit or acorns which adds to the potential for structural failure. Improper pruning in the past can also lead to structural failure. When these weak areas fail, large limbs, trunks, or entire trees may come crashing down on anything underneath them. Our licensed arborists are properly trained in this area of expertise and will be happy to inspect your trees. Only a professional arborist should perform tree cabling or bracing – and we are the pros you should call first. Call to schedule a free estimate today – (203) 264-9937.
In the case of weak limb structures, cables and bracing rods may be installed to offset necessary tree/branch support. Properly placed cables between limbs can help redistribute a load of weight, allowing the limbs or trunks to support each other. Bracing rods are often used to support splitting limbs by bolting them together. Installing cabling/bracing offers additional support but does NOT offer any guarantee they will not fail in the future. Remember that ALL trees can fail given the right circumstances, regardless of their size.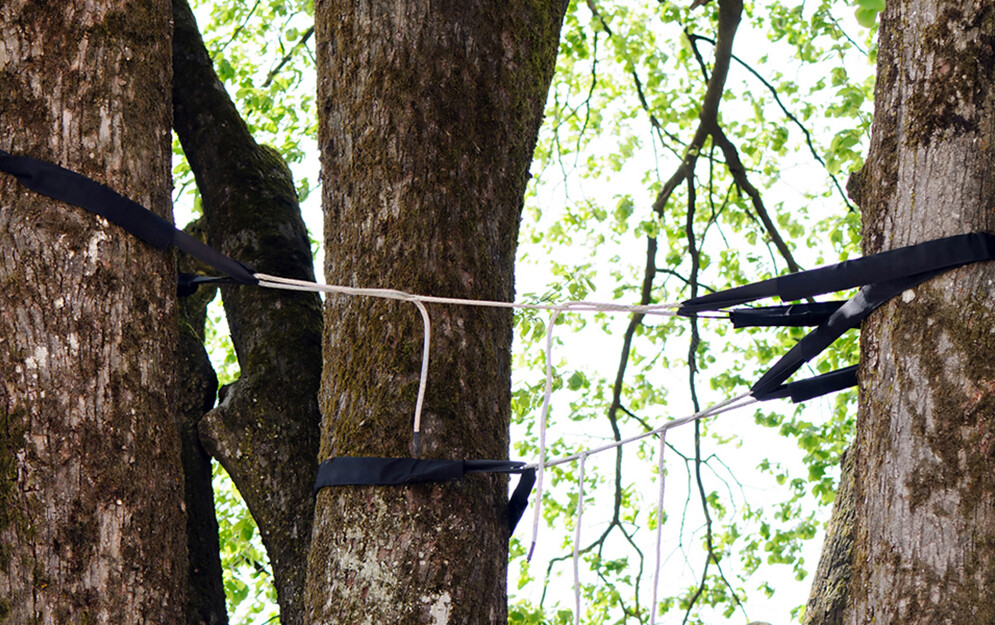 Cabling is intended to offer additional support for trees with structural problems or poor architecture. For example, a tree with a tight "V" attachment may have codominant stems, which are more vulnerable to failure during extreme weather conditions, such as wind or ice load. Depending on the specific tree, one of two cabling options are available: Static or Dynamic cabling. Static cables consist of a steel cable that is attached between two stems by drilling into each stem. These cables minimize the movement of the stems being supported and are used to provide support to very weak attachments or attachments that are already beginning to fail.
Dynamic cable is a woven, rope-like material that is spliced around the stems of the tree between the stems being supported. This type of cabling allows more natural movement between stems, while still providing support. In either case, more than one cable may be required for proper support. If you are concerned with the structural integrity of your tree, your Certified Arborist can help you decide if cabling is right for your tree, and which method is appropriate.
Family-owned and operated for over 40 years, Southbury Tree Service has the right tools and breadth, and depth of knowledge to provide the best solution for your trees. Call us today at (203) 264-9937 to set up a consultation with a certified arborist!
For more information about tree cabling and bracing service in CT, call Southbury Tree Service at (203) 264-9937.